I have a lot of pet peeves.
And I'd like to share some with you today. And I'd like if you'd share some of yours.
And I'd like if I could stop starting sentences with the words
And I'd like
.
So let's get right to it.
Here are some of my pet peeves, in no particular order:
When people don't hold the door for you when you are clearly getting ready to enter or leave through said door.
When people don't have basic manners. How hard is it to say please and thank you?
When people don't tip enough. I'm a 20%-er. However, I reconsider that once in a blue moon. (See below.)
When waiters/waitresses don't write down your order because they think they'll remember it and that it makes them look cool and then you get your order except it's not really your order because they forgot something you said since they didn't write it down.
When people leave their shopping carts in the parking lot instead of returning them to the cart corral.
When people tailgate me. I'm a slow (read: safe) driver.
When the toilet paper roll goes under instead of over. In fact, I've fixed this in some people's houses. I always wondered if they noticed.
When the grocery bagger puts toiletries in with the frozen stuff. I appreciate that he/she is bagging for me; however, I organize my items as I put them on the conveyor belt for bagging purposes.
People who speak in faculty meetings about something that applies solely to them and therefore waste everyone else's time.
Leggings worn with a short shirt instead of a tunic. FYI: Leggings are not pants.
Stupid questions. Yes, they exist. Believe me. I'm a teacher.
When cashiers or waitresses call me "honey" or "sweetie." I'm older than you are. But don't call me "ma'am," either. I'm not your grandmother.
When people who are sick do not take proper sanitizing precautions to cover their mouths when they sneeze/cough, when they don't wash their hands, etc.
Bad grammar.
Shaving my legs. And self-tanning. Both are time wasters yet extremely necessary.
Farts. Farting. The word "fart."
Paying bills.
Not having coffee first thing in the morning. I NEED it.
Oh, this:
I could go on, but I don't know if anyone's still reading at this point, so I'll cap my list there...
for now, at least!
Plus,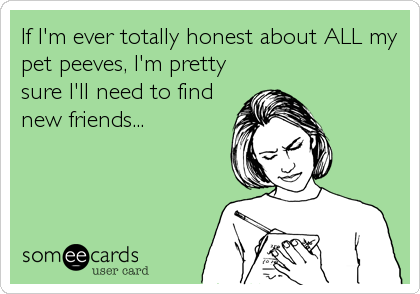 Ha.
Anyway, I'd love to hear some of your pet peeves, too! Feel free to share below in the comments section. Otherwise, have a good Monday and an even better week!