After what has been a long, emotional week for a lot of reasons, I thought today I'd just recap some random stuff and leave you with a funny.
1) My son starts a kindergarten orientation camp this coming Monday. I swear I thought we had an extra week between now and when he starts. I am in denial that tomorrow is August.
2) I think the second reason I'm upset that he starts on Monday is because that means I need to get in gear with my own school stuff. I have to go into my building, start setting up, prepare lesson plans... and I have a feeling August will fly by as fast as July!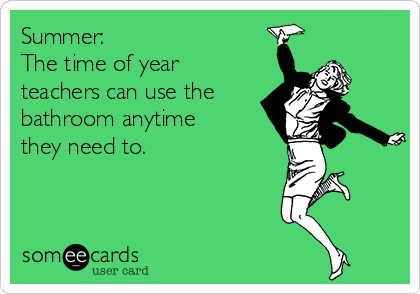 3) I have spent entirely too much money lately on various things (some were necessities, though!), so I am putting myself on a spending strike. Stay tuned. This should be good.
4) I have been really bad lately at keeping up with my blog reading. I think the last time I checked I had over 200 new posts in Bloglovin' to read. How does that happen so fast? I. CAN'T. KEEP. UP. And I know I'll definitely get behind once school starts!
5) I really have not been in the mood to cook lately, but I have to get back in the habit... fast. Any good, easy recipes you can share? I'm all ears!
* * * * *
And for your weekly dose of funny, check out this clip of Tom Cruise and Jimmy Fallon in a lip sync battle. It's a bit long, so I recommend skipping ahead to the last song. It gave me a good chuckle.
(source: YouTube)
Hope you have a great weekend!