If you've been reading my blog, you may remember me mentioning on occasion that I love pedicures but never splurge on manicures because they just don't last on me. To pay for a manicure is like throwing my money away, unless I decide to pay a bit more and get a gel manicure.
Anyway, the other day when I was reading someone's blog (and now I can't remember whose -- I'm so sorry!), she mentioned this new Orly nail polish that is available only at Target. She used the minty green color on her nails and was raving about it. (If you know who you are, please leave a comment on this post so I can give you credit!)
So I stopped at Target the other day (shocker, I know) and decided to pick up this kit because I wanted my nails to look nice at the blog conference later this week. If I could get my nails done all the time, I would -- but it's just not practical for me. This seemed like a viable option, at least for those times when I'm dressing up and want my nails to look nice.
There were three colors to choose from - a mint green, a purple, and this bright pink called "LA Selfie."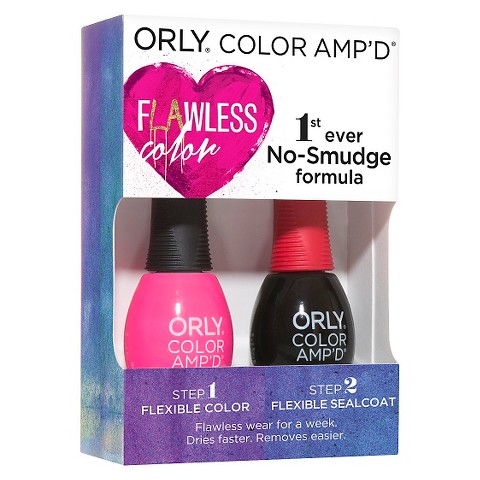 (source: Target.com)
I went with the pink because it was bright and summery.
I painted my nails Thursday night and am happy to report that they are still going strong! This is seriously a record for me. This is the first time I can actually say that I've been happy with my own at-home manicure. I am truly impressed at the staying power of this, and it hasn't even chipped! It's crazy good.
There is one negative here, though. Okay, two:
1) As of now, I think there are only the 3 color options I mentioned. I do really like the current ones they offer, but I'm hoping they come out some others as well. I'd really like a pale pink!
I was just thinking, though... I think I may have seen other colors near the kit. I'm not sure if it's the same kind - the "Color Amp'd/No Smudge" formula, but you better believe I'll check. If that's the case, that'd be great because I already have the top coat now. I will report back. (Plus, I'm wondering if the special top coat will work with some of my other polishes.)
2) The price for the set of 2 is $14.99, so not cheap. And if you know me, or if you read my blog, you know that I am a cheap person. And I love me some coupons. And sales. And clearance. And I absolutely HATE spending a lot on nail polish, but I've come to learn that - at least for me - cheap nail polish does not apply well... nor does it last. So if I'm going to buy polish, I know I have to spend a bit more than usual. I sometimes find OPI or Essie brands at T.J. Maxx, though, so that's always exciting.
I think $14.99 is a lot to spend on polish, and - I'll be honest - I picked up this kit on the recommendation of another blogger and I didn't know how much it was until I was at the register because it wasn't labeled. I was floored when I saw the price on the register screen, but I figured it was worth the try. And it ABSOLUTELY was.
So the lesson you should take away from today's post is to
RUN TO TARGET AND BUY THIS POLISH NOW
. It is absolutely, positively worth the investment. And if you happen to pick up a drink at the Starbucks while you're there, well, I wouldn't be mad. You know how I love my coffee. (And Ryan Gosling.)

Have a good Tuesday!
Hope to see you back here tomorrow... I'll be discussing what it's like to be the only woman in a house full of men!