Let's just get right to it. This pretty much sums it up: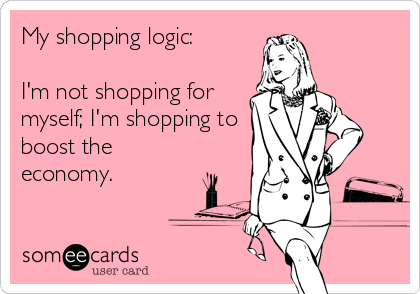 I love, love, love to shop. I could shop for hours - with or without friends. It's fun to shop with friends to get others' opinions and discuss our buys, but - I'll admit - I'm totally content shopping alone (especially at Target!).
My favorite thing to shop for is fashion (clothes, shoes, accessories). I ONLY buy clothes that are on sale. Well, I actually try to buy everything on sale, but it doesn't always happen - like at the grocery store. (By the way, is it just me, or have groceries gotten freakin' expensive? Nine dollars for grapes?! If I'm paying that much, I'd rather buy a cheap bottle of wine! Who's with me?)
I understand the argument some people make about buying investment pieces, or items of clothing that are expensive but last forever. I suppose I have a few items like that, but not many. The only ones I can think of are my Ugg boots and my one Coach purse (which was a gift from my husband). What can I say? I'm just cheap.

I love coupons and sales and bargains and clearance sections. I get a high from getting a deal. The only items I'm willing to spend slightly more on are shoes at times, like when I need a good pair for work. Being on my feet all day requires a combination of comfort and fashion.
My two favorite places to shop for fashion are Target (duh) and Old Navy. (Coincidentally, those are also the same two places I purchase my son's clothes. How convenient, right?) I could care less about brand names just for the sake of brand names. Plus, I like to change up my wardrobe and try out trends, so I don't want to invest a lot of money if I don't like them. (Remember the palazzo pants from a few posts ago? I am still on the hunt for a better pair. But more about that later.)
Let's start with Target. I have a post drafted all about why I love Target, so I won't go into too many details now, but oh, do I love it so. I almost always find stuff in their clearance section, and I use my Cartwheel app plus their weekly deals to save even more. I also have a Target REDcard, so I get an extra 5% off every order and free shipping. Woo hoo! (By the way, the only reason I signed up for a REDcard is because you get 5% off the Target Starbucks. When the cashier told me that, I was sold. Girl's gotta have a mocha.)
Old Navy, though, is another story. Old Navy constantly advertises some sort of deal, often changing it daily. To be quite honest, it's kind of annoying. There have been so many times when I've purchased something one day only to find it's on sale even more the next day. I've gotten price adjustments a few times, but other times I figured out that the deals end up being about the same even if they don't seem like it.

For instance, one day Old Navy had a 20% off sale that applied to certain items, and then they had 30% off the next day. However, during the 30% off sale, the original prices of the items were different than the day before, therefore making the items work out to around the same price anyway.
I'm on to you, Old Navy. But that's some smart marketing. Kudos to your marketing peeps.
My other beef with Old Navy is their inconsistent sizing. A size 6 in one pair of pants fits like a size 10 in another. That long, black and white striped maxi dress from an earlier post was the perfect length for me, but I ended up sending it back because I (surprisingly) got a better deal on it in a later order. The ordered dress ended up being several inches too short on me, so back it went. It's SO frustrating. I like to do online ordering just because it's more convenient (and also because they offer free shipping over $50 AND free returns), but it can be a real pain when you have no idea what your size is in anything until you try it on.
I get so mad at Old Navy, but I keep going back because their clothes are cute and affordable. I guess I'm insane. I know. And I'm tempted easily if I look online, so I need to stop myself.
But wait - I told you I'd get back to the palazzo pants. When I sent a bunch of stuff back to Old Navy, I decided to exchange those black/white palazzo pants that looked like PJ pants for a plain black pair. I actually ordered one pair in the regular length and one pair in the tall length to see which one fits better. I hope they work for me because I think they're SO cute and, to me, are much more comfortable and flattering than shorts.
On a completely different note, my birthday's coming up later this week, so I treated myself to a pedicure - the first of the season and sorely needed. My mother-in-law joined me and, boy, are our toes happy.
She went with a peachy/coral color and I decided on "electric blue." GO BIG OR GO HOME.
While we're on the subject of pedicures, I have to tell you... I am the worst pedicure client. I wouldn't want to do my pedicure if I was a nail tech. I am uber-ticklish and have kicked pedicurists by accident because my leg spasms when they start doin' their thang. Honest to God. The only plus of doing my pedicure is that I'm a good tipper, and the only reason I'm a good tipper is because I kick the nail techs throughout the ordeal. Yes, it's an ordeal all right. (Actually, I would love to just pay them to sit on the massage-y chairs and soak my feet in the vibrating foot bath. That, to me, is one of the best feelings in the world.)
Thanks for sticking with me on this long post today! Enjoy Tuesday.